Hello to the Lightburn development team
I have designed and developed a wireless Jog handle for the grbl controller.
Here I want to describe a problem when working with this jog handle using Lightburn software, and also Suggest a feature to Lightburn for better performance of this jog handle with Lightburn.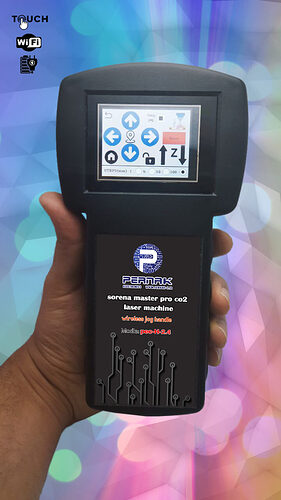 Problem:
This problem that I want to express only occurs when using Lightburn software, I have tested it with several other software such as laser grbl and there was no problem.
When starting a job by pressing the start button in Lightburn, the machine starts working and all the coordinates of the axes, speed and power of the laser are sent wirelessly via grbl to the jog handle and displayed on the lcd display.
So far so good, but when the job is done and the machine stops, the commands sent via the jog handle will be ineffective until the stop button is pressed through the lightburn, now everything is fine again.
Why does this happen when using Lightburn and how can it be solved???
Proposal:
Since grbl is not able to calculate and execute the design frame, this is done through Lightburn.
Therefore,I want to add a button to run the frame using this jog handle:
The implementation method will be that the Jog Handel sends the command to execute the frame to grbl, then grbl sends this command to Lightburn through the serial port, and after receiving the command by lightburn , the frame operation is sent to grbl via Lightburn.(Quite the same as when we pressed the frame button in Lightburn through the computer)
Is it possible to add this option to Lightburn??
Thanks for any answers