Hello! I'm looking for someone (or someones) with a 6445G controller who would be very kind to test cut a simple file. I've had a weird misalignment problem that I've tried most everything to solve. I finally made a simple file with two rows of 20 lines that creates the problem so I could convince the manufacturer that this error exists.
They were able to replicate the error on their machines, and have checked with Ruida who gave them a run-around answer.
I need to know if the problem is just with this batch of Ruidas (mine and the company that I bought my laser-cutter from), or if it is all Ruida 6445Gs. If the file cuts correctly on someone else's 6445G then I can get a new one (from a different batch!) and finally be free of this problem.
My machine misses alignment in the x-direction by about 0.1 mm in random, but repeatable places. In the simple file I'm hoping someone(s) can test, there are 20 line segments in a row, and 20 more line segments underneath, touching the top row. In one version (filename 20D), the cut order is set so that the top row and the bottom row both cut left to right. The line segments align exactly, as they should.
The second file (20B) is the exact same file with the cut order changed. In this one the top row cuts left to right and bottom row right to left. Shouldn't make any difference… but on mine it does. The two rows of lines meet neatly at the two ends but not in the middle. Exact same file. Just a different cut order.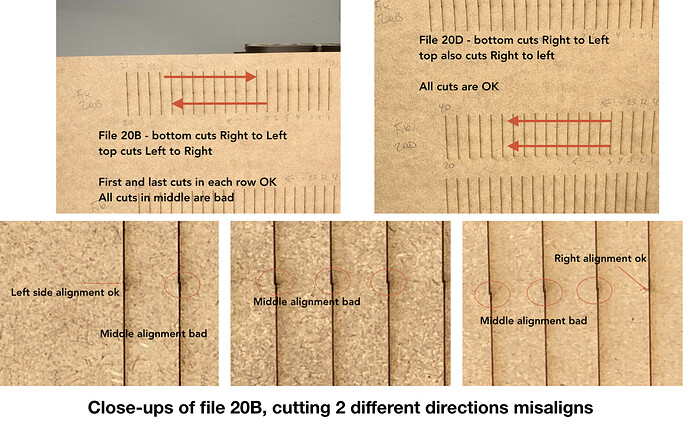 Here's the files, in .rd and .rld format:
https://www.dropbox.com/sh/xjes6qmcpn59 … 0t-Pa?dl=0
(I use Lightburn on a Mac, but had to make these in RDWorks on a friend's PC because the company kept telling me the problem was Lightburn, which I knew couldn't be but I had to prove it to them).
If you have a 6445G and can check with an actual physical test cut, I would be extremely grateful. This is the key piece of information that I need to know if it is indeed just this batch of controllers, or all Ruida 6445Gs, or something else.
If you're willing to try, I'd be happy to send you one of the wooden puzzles we design and produce. Thank you so much!