Hey all… first time poster here, but have been reading on the forum for quite a while.
60w 20x28 Chinese Laser - Ruida Controller - LightBurn
I just got a roller type rotary (disk wheels, not hotdog roller type… from Jason @ Mansfield Customs. Super nice guy and has been awesome to work with) for Christmas. Works like a champ. Got all the settings dialed in that were provided from the seller to engrave tumblers. One issue… the beginning of the engraving process is a little distorted. As you can see in the pic, the W in Wrights in skinny on the left side. It's not the SVG file I used, because it is the same if I use the text creator in LB. Same issue. Also, doesn't matter where I start the laser from using the current position…top middle bottom. Same thing happens.
I have tried changing the max speed of the Y axis from 300mm to 25mm in the machine setting through LB that writes to the controller. Still same issue.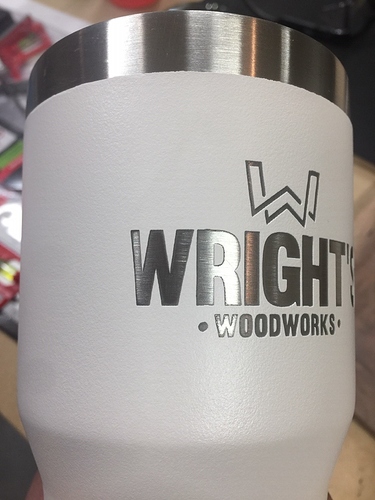 What could it be? Idle Speed, Idle Acceleration?
The rest of the image comes out perfect. Any pointers would be awesome. Thank you!