I've had my K40 for about 6 months and have spent most of that time upgrading it. I've replaced the original firmware board with Cohesion3D LaserBoard (now running with Lightburn), increased the bed size to 12x20 inches with a new gantry, added a scissors lift with stepper motor to adjust Z height (mostly untested at this point), replaced original laser head with one from LightObject and lens from Cloudray, added an air-assist pump, replaced digital control panel with analog ammeter and 10-turn potentiometer and pushbutton switches for laser test and control of smoke/fumes exhaust system. In other words, about the only parts of the original K40 I kept were the case and the CO2 tube. After getting the new gantry to move properly and accurately and aligning the laser beam, I decided to cut something out of 3mm birch plywood. I ran a test speed/power grid and here are the results: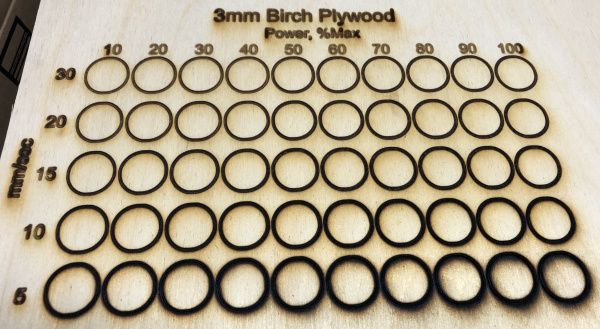 The higher speeds looked OK, so I ran this image as a test:

I thought it would be a good test because of all the small holes. My first attempt came out like this: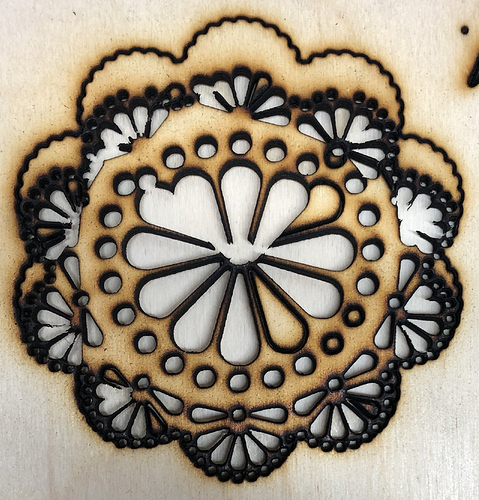 Ooops! Then, I remembered I forgot to focus the beam with the new head and lens. I also needed to fix the plywood to the bed better so it wouldn't move.
After focusing, I ran the test speed/power grid again with these results: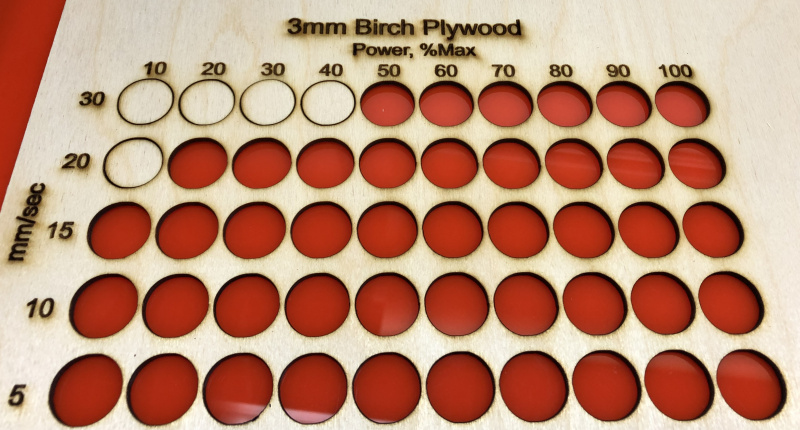 Much better results so I gave the image a second try: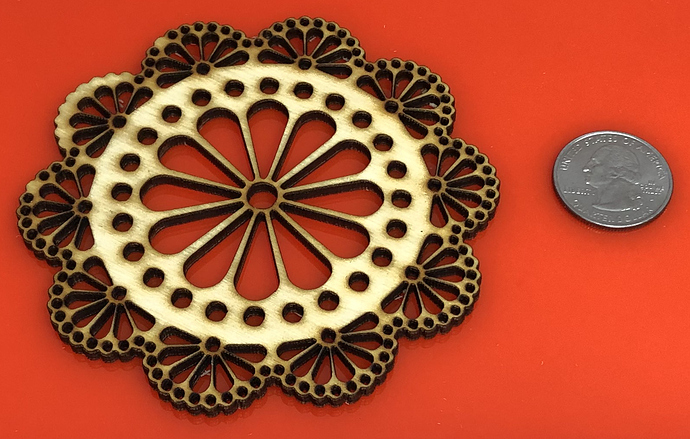 I'm very pleased with this result. I chose 30mm/sec, 50% power set in Lightburn (input voltage=2.7 which gave 15mA at 100% power) and 3 passes to cut this image. There are a few small holes missing in the upper-left side of the coaster, but it turns out those holes are missing in the image for some reason…I don't know what happened to them. I think my next test will be with painters' tape covering the surface to reduce/eliminate charring on the surface.
Anyhow, this was a big lesson for me on the importance of focusing the beam. After several months of messing around with the machine, I think I'm finally ready to start cutting.