i am also trying for 1 month to cut any size tree and it is without success …
We are going to need more information than that if we are going to be of any help.
Hello,
I'm new to this thing in general, but it's really interesting and I have the ambition to do great things. I watch and read constantly in forums and videos. I found a few ready-made files with prepared settings from a person who has the same laser as mine, but things do not look the same as with him and I do not succeed. I have an ortur laser master 2 / 20w. He is no more than a month and a half old. the other is that this. I have not seen what I was looking for to focus the point with a metal cube from the eye of the diode and the countertop, because I cannot move the laser body up or down. I was trying to rotate the eye of the body so that the diode point is smaller when cutting and it is obviously too high from my countertop and not quite a point. I would be happy for any help, it will be useful for me! thanks in advance and stay healthy!
@VALENTIN Your issue may need moved to it's own topic, as it does not really relate to this topic of image engraving.
I don't remember if the 20W module has the adjustable lens or not, but it is easiest to see your focus point on a black/dark material. You should be able to focus the spot down to under 1mm. I can get mine (15W module) to around 0.5mm.
There are a lot of other things I want to ask, but let's not burden other people with a non-specific topic. I have a lot of different settings in the program than others I've seen and I can't understand why. And here is the minimum I can bring it … I don't think the point is even correct.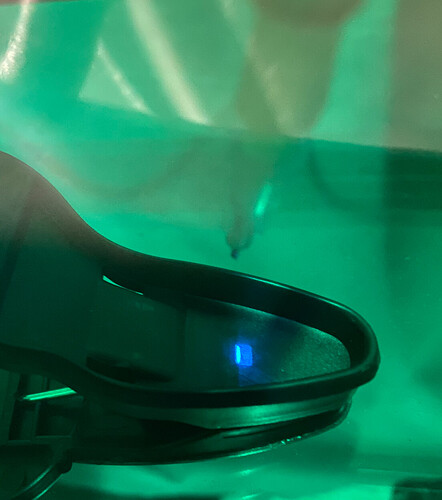 @JPSavard Perhaps you can post your file so I can see if it does the same thing on my machine.
@VALENTIN your picture doesn't provide a point of reference as to what the size is (it is obvious that it it is not focused though). But please start your own topic and I will try to work with you there. We don't want to hi-jack JPSavard's thread.
@VALENTIN which lens do you have for your laser module. If you do not know can you post a picture of your module showing the lens. Also at what height above your work piece do you have your module mounted?
Hi.
Is that the air vent in the photo? It all looks very far away.
You can also reduce your laser power. (0.1-0.2%)
Then you don't need the glasses and can easily adjust them by hand.
Can this topic also be helpful? → Ortur LM2 - X axis engraving problem
This topic was automatically closed 30 days after the last reply. New replies are no longer allowed.