Chinese, so probably more like 45w
I probably will not cut many meters but my K40 with approx. 35Watt cuts slowly but nicely 16mm acrylic. With the right lens you should probably cut 20mm I would think.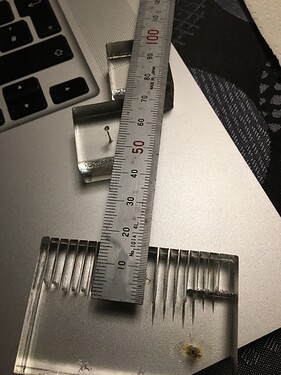 Awesome, thanks. I need to do one of those test blocks as well. I've got a couple of different lenses to choose from, not sure which would be optimal for cutting 10mm acrylic. 2.5"?
I mean I did the tests with a 12mm ZnSe 2 "lens, so a 2.5" should be an even better one.
I spend a lot of time doing tests with all the materials I work with. On the one hand, it is fun and on the other hand, you get the necessary knowledge to be able to make the best use of your machine and materials.
I have made a lot in 6mm acrylic, stand for corona shields, all with my little cheap K40, but I would like to buy myself an 80 Watt 500x700 or 400x600, depending on what I can get through my basement door
This topic was automatically closed 30 days after the last reply. New replies are no longer allowed.