I am at wits end here so I thought I would ask for help. Does anyone have any idea why when I engrave a image of an eagle, then engrave the trace of the eagle, they will not align together about midway to the end of the engraving. Please see pics attached.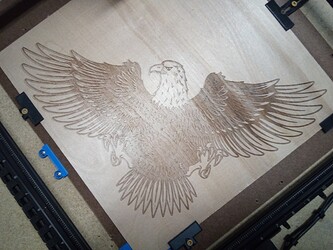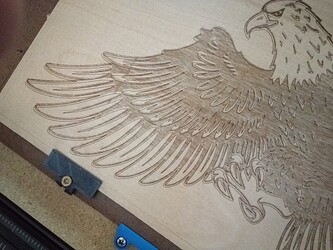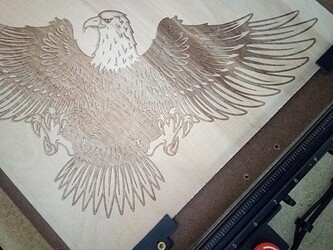 The Eagle total is the whole pic of the engraving, hopefully when you enlarge the pic you can see how bad it is off on the left side.
What is interesting is that I have engraved the trace (line) 2 times and it matches up perfectly. It just doesn't line up with the image engraving that the trace is derived from.
The really odd thing is that both the image and trace line up perfectly in lightburn. What am I doing wrong?
I am using a Ortur Laser Master 2 Pro S1 which I got last Sept. 2021. Firmware is ver 1.75.
What is the correct way to ensure the my laser is aligned with the x & y axis?
If anyone has any ideas please let me know… TY
Update: When I take the image and pre-view it, then go to about 3/4's of the way complete and have it start to engrave, it will align properly. This is frustrating… I have included the lightburn file itself.
TY again…
American Eagle Plaque 2.lbrn (1.1 MB)