So just got an 8 mp light burn camera in the the mail today. Trying to calibrate it has been frustrating.
I am using a windows 7 computer. It's what I have available for the laser at the moment until I can move my design/3d modeling computer into the same room.
At first I could not get the camera to show an image. I found some files o this forum that needed to be installed to work with windows. That got me an image.
Now I can get a live view no problem. When I go to calibrate the image I can get a sub 2.0 score then the next without moving it I get no image found. Then randomly I click capture and I get an pop up shown below. And have to close and restart light burn.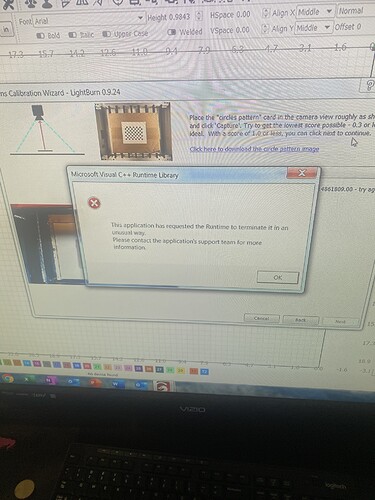 Is this a windows 7 issue, a runtime issue , or something different.
Light burn updated today
No extension cable, using the cable that came with the camera.
I have a single board covering the entire honey comb.
This is the first calibration step so per the picture I have the target on a piece of cardboard setting on the wood on the bed. It is just taped to the cardboard I am flying one to some plywood now to try that.
I have also focused the camera the best I can.