Hi All, I am new to lasers and bought a used K40 with a cohesion board installed. I have been using lightburn and the lightburn 5mp camera but I am having a ton of issues. I am not sure what might be lightburn related or possibly board/laser related so bare with me and my questions if you can.
I set my bed size by measuring it from end to end where the laser stops and I set my origin in the top right as that is where the machine seems to not mirror my work and actually respond with a what you see is what you get on the screen.
When I start a job sometimes the machine randomly goes to a completely different location. For example, I wanted to do some test burns for a dog tag I would like to make my new puppy. I ran the word MILA in the middle of my work space. The K40 goes to the bottom right and writes MILA with all the letters on top of one another (See first photo below). Without adjusting anything, I hit the start button again. This time the K40 goes to the top right and spells MILA out properly. I made no adjustments, I didn't touch the program or the work piece.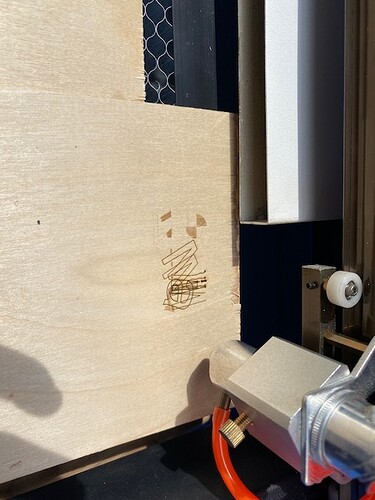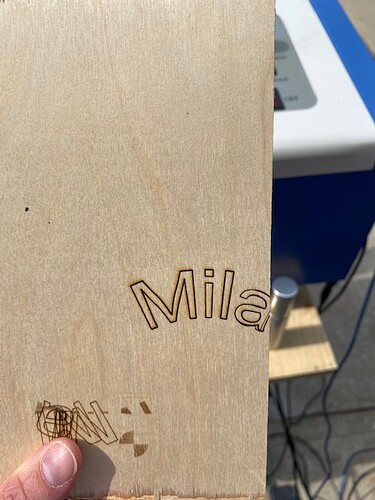 I have coordinates set to absolute. Why is it randomly going where ever it wants?
Same thing when I went to do a dog tag, I did it on the wood first in one spot to give me a reference point. Slid a dog tag over top of the wood in the same spot, the k40 decides it wants to go somewhere else entirely. I can't reliably fire my laser in the same spot to do repeat jobs.
I tried to do the calibrate camera alignment in lightburn. It gives me a grid it wants burned into a piece of wood, similar to above, the laser tries to burn it in a different area every time I try to run it. A lot of the time it tries to run half of the grid right off of where my gantry is. When I look at the file, it is dead center set to my machine. As a result I have not been able to get the alignment targets printed to be able to preform this function.