First I move it to mirror 2 and pulse it. It marks the tape decently. I move it to the right position and pulse it 3 times before it even starts to mark the tape weakly. It is consistently showing this loss. This is an 80W Omtech and the power is set to 11%. I noticed originally when trying to cut a large footprint file and it was cut fine on the left but as the head went right on the bed (away from mirror 2) the cuts failed to be made.
I saw another user had this issue but it didn't appear to be resolved. A few people have recommended it was an alignment issue so I've been trying to dial in the alignment for the past week. Here is where it hits on the first mirror:

And this is where it hits on the second mirror: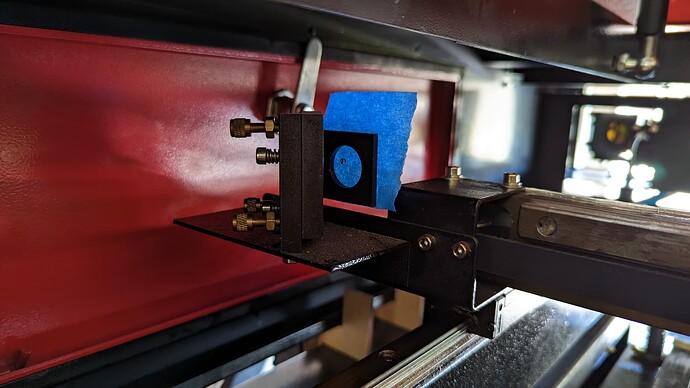 I am aware that it is off center on the second mirror but that's just where the two dots are on top of each other and everything I've read/seen suggests that its ok here (correct me if I've come to an incorrect conclusion).
Another person suggested that there may be smoke or something in the beam path but from the video I think its pretty clear that is not the case.
Another suggested that it was my tube dying, so I asked if this is how dying tubes behave in which another person stated no. Neither providing elaboration. I've tried to search for behaviors of dying tubes and only have come across weak performance across the entire bed.
Needless to say I'm pretty lost on this and would like to get my machine working again. Let me know if I need to provide any additional details. Any help would be appreciated.