I've got a Chinese blue-and-white with the Ruida RDC6445GZ controller.
The machine's motion system left a lot to be desired, so a few days ago I pulled it all out and built a new one for it, essentially building an Acro system from Openbuilds inside the case. It's belt-and-pinion driven with two NEMA17 motors on the Y axis and one on the X axis.
I just finished it up an hour or so ago and I'm happy to say that it moves very well. The problem is that it doesn't move accurately or consistently. I've had several CNC routers so I know about calibrating steps per millimeter for accurate travel. It's the inconsistency in this one that I'm confused on.
I marked a spot on the X axis rail and used Lightburn to tell the machine to move 100mm to the right and made another mark. Then I repeated that twice more, marking each point.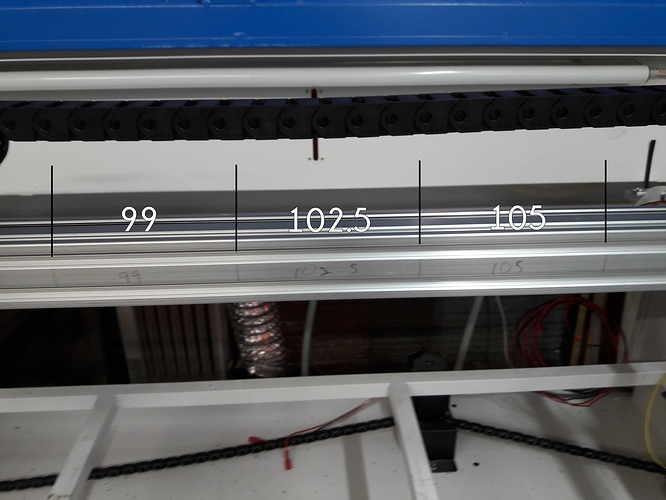 The first segment is 99mm long. The second is 102.5 and the third is 105. ?? If the steps are off, the distance will be inaccurate but it should be the same each time. It also doesn't return to the same spot when I tell it to move 100mm right then immediately 100mm back.
Can anyone shed some light on possible causes for this? Any direction to take in troubleshooting would be greatly appreciated. Thanks!