It been brought to our attention a problem regarding Power Modulation while on M4 Dynamic Mode.
Thread here for complete description of problem: Power modulation problem I think
First of all we would like to thank everyone for bringing this to our attention and apologise for the delay. Current events and the Chinese New Year Holidays held us back from delivering a firmware patch that would fix the problem.
Note: If your machine was produced after January 15th, 2020, you will already have this firmware installed on your machine and do not need to update.
A brief explanation of what happen. The problem was caused on the encoding and parsing of the SXXX commands in the 32bit firmware. LightBurn and LaserGrbl was issueing the correct SXXXX power command, however this power commands were converted on the fly to 8bit instead of 32bits (this would cap them to S250 max only). We identified this issue as well on the GRBL fork firmware we used as base for our Ortur Laser Master machines and are sending a Pull request to fix it there as well.
Fixing this bug will also enable the laser to output the full power it should, so please be warned S1000 will output much more power than what the previous firmware was allowing. In effect Before this patch S1000 was equivalent to S250 in a S0-S1000 scale.
*Note: If you have performed power tests for engraving and cuting on different materials and have a list of settings for them, these tests must be repeated to account for the bigger power output at the higher power Values. Apologies for this
ORTUR LASER MASTER

Firmware:
Ortur Laser Master 1.34
ORTUR LASER MASTER 2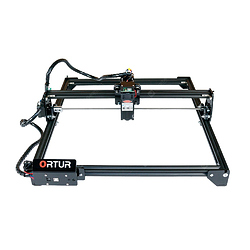 Firmware:
Ortur Laser Master 2 1.34
How to Update your Firmware:
Please connect the Ortur Laser Master Laser Engraver to a Windows OS computer by USB cable and follow the steps below. (Windows is required to do this)
Note: Be sure Lightburn, laserGrbl or any other software that communicates to the USB port are not running.
a) Press and hold power button
b) Press the Reset Button one time
c) In your computer a folder will show up (this folder is just as similar as a flash driver inserted into the computer)
d) Release the power button.
e) Copy the OLF_134.BIN in the folder
f) Wait a few seconds, then press Reset Button again
The firmware should now be upgraded to the latest version.
Please let us know if any other issues arise.
Regards
Ortur