Hi everyone,
I'm quite new with Lightburn, having acquired and installed a CD3 board recently.
I own a 6040 chinese laser machine who seems to work correctly hardware related.
Before, I had a M2 Nano board which, all things considered, worked well for my needs except for the awful software.
Now, I'm trying to continue to engrave drawings with the same settings as before but I definitely don't have the same result:
BELOW:
Old M2 nanoboard with Corel Laser
400mm/s @ 20% laser power (80W)
TOP:
C3D board with Lightburn
250mm/s @ 35% laser power, 254dpi
Settings: I import PNG transparent file first converted to RGB then grayscale at 300dpi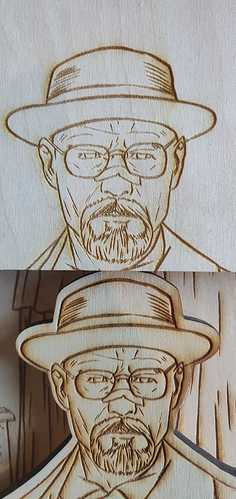 As you can see, the result is uneven, fuzzy. I know it's not much but I can see the difference.
I only use lineart, black&white file.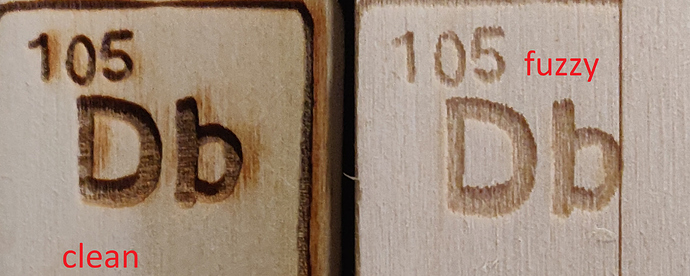 Also, I tried to activate Smoothie clustering (because I guessed I had the last firmware on my CD3 board) and here is the below: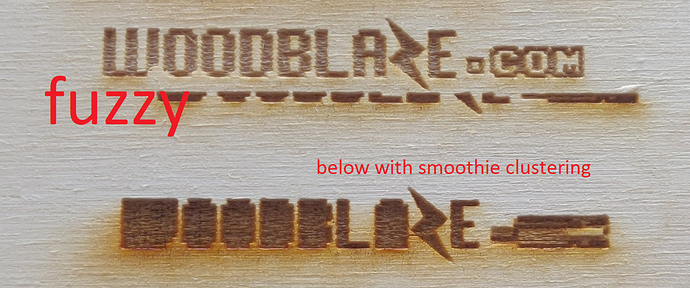 Do you know what might be the issue, how to improve the result, get cleaner and even lines ?
Thank you very much for your help