Good morning,
Shortly after the 1.2.00 update for Lightburn, we noticed that our X Tool D1 laser (10W) began to skip parts of engraving projects. It's always the same 'sections' of the design.
We're engraving on white tile (not the Norton Method) at a speed of 100 mm/min, and a max power of 100%.
This is the project sample we're working with:

And this is the result: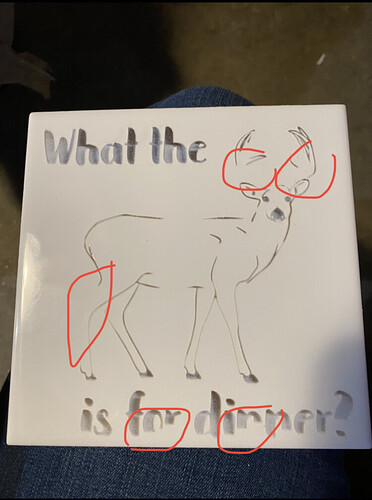 The red circled areas are what's being skipped, pretty much on every edition of this and other projects.
We've reset the laser, uninstalled and reinstalled Lightburn, reset the firmware on the X Tool, and verified the $30 values are correct. We've cleaned the lens multiple times; checked/tightened belts, lubed up everything. But we're out of troubleshooting ideas ourselves. Anyone have any insight?
The computer we're running is a HP desktop, running Windows 10. It's not eligible for a Windows 11 upgrade unfortunately.
We're hoping that someone may have run into this problem before and can help guide our troubleshooting efforts. We're admitted 'laser newbies'; we've had the X Tool D1 for about 4 months now and have loved every second of it!