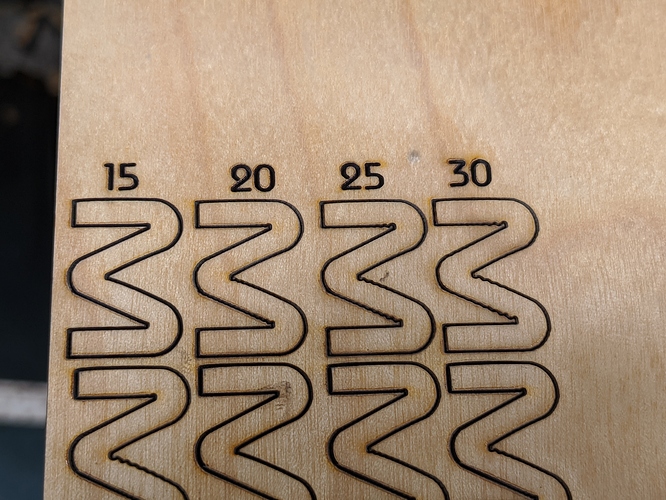 Numbers are in mm/s and are speed of that vector engraving layer.
I have tried changing the machine settings "Cut Parameters" acceleration max + min down to 15mm/s and it does not fix this problem because Lightburn does not consider these very tight curves in the middle of the M to be worth decelerating for.
Vector engraving continues along at whatever speed the laser has accelerated to around these very sharp corners. My Y axis is fairly large and heavy on this 900x1200 machine so the fast direction changes cause vibration in the belts.
The sharp 90deg corners at the ends of the W are fine because the motion planner is applying decel/accel settings to those movements.
I have tried searching for this issue and it seems like there is no compensation for curves below a certain radius to need slower speeds?
Really like the software - hope there is a fix in the settings I am just not seeing for this - or maybe it is a new feature that needs to be implemented to treat curves below a certain radius as new line joints for deceleration/acceleration calculations?
Or maybe the choice between treating those small curves as worth decelerating / accelerating is handled by the Ruida controller? I am not sure exactly what handles what yet?
For productivity sake I want to engrave at 30mm/s at least - but these errors that only show up on some specific shapes are limiting my speed. It does fine with straight square shapes because the s