Hey everyone, newbie to laser use here. We have been outsourcing patches on laserable leatherette for a while but decided to bring this capability in-house so picked up an Atomstack A5 Pro and Lightburn to learn the ropes.
Things have gone pretty well but having some trouble figuring out the cause of this "striation" effect we're getting. We don't see anything like this when running the Lightburn Material test, but it shows up as soon as we try running an actual design. We've run about x30 tests adjusting speed and power up and down but always get the same general result, although to different degrees.
In the comparison pic below, the patch from our vendor has a very clean, solid black throughout. Our patches however end up looking "washed out" rather than dark black when viewed from a distance, due to this striated effect.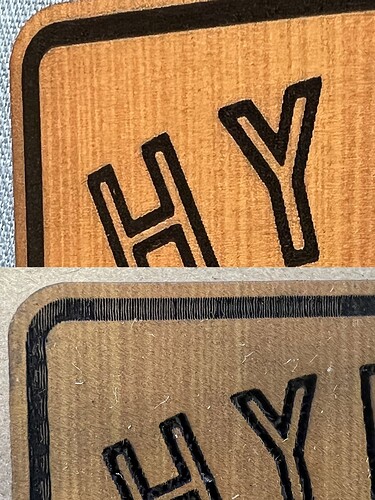 We had assumed it was maybe related to speed, but we still get this even when dialing things way back, to like a single 2x3 patch taking 20+ mins. What settings should we be messing with to sort this out? Line Interval? Lines per Inch? Something else?
In the event that it matters, the material we're using is the "Bamboo" leatherette from Hydbond, whereas the vendor's material is the "Bamboo" leatherette from JDS.
These are the settings that seem to be giving us the "best" results so far:
Any help would be very much appreciated!