First off, these scrapers were provided by the client. I wasn't responsible for the mis-drilled holes and discrepancies in size and/or design.
As part of my previous monitoring for clients (see the "Barn wood wedding sign"), another prospective client chimed in with a request for some laser work on some scrapers that were being given out to the wedding party members in an upcoming wedding. I said "Sure, I can do that", so off I went.
This ended up being a much simpler burn than the last one. Burned a sample he had given me to get the proper settings for working on cedar, drew up the layout and got it properly positioned on the first piece, then clamped a right angle fence in place. Whipped through the 10 scrapers in about 9 minutes each, and I could edit the text for the next one while the current one was burning. Here's the end result: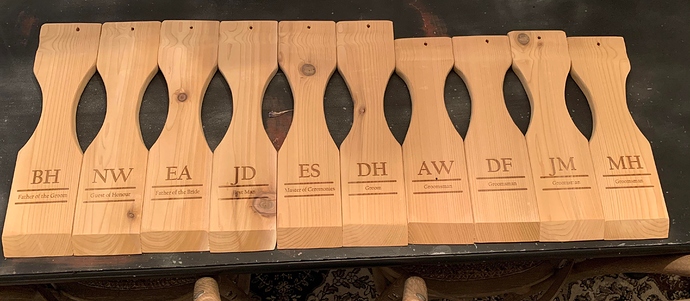 Nice easy burn, the client was happy, the bride was happy, everyone was happy.

I like this stuff, especially when it goes well! Got them done ahead of schedule, even.