Hi!
I had bought a chinese CNC system, with a 40w diode laser, an "EIDEVO" laser module.
This is the machine: CNC5040
and the laser module is this: Laser Module
I have it with a controller, that uses a SD card ith the files.
Also, I made a custom box with air extraction and air support at the head. The box is closed when working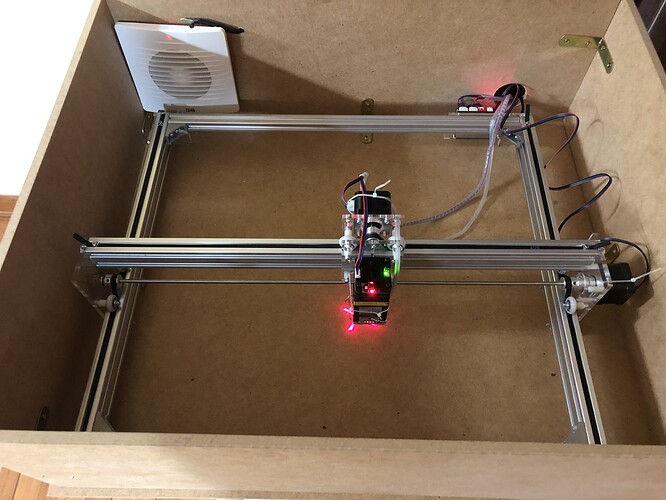 I was happy with it, but it has degraded rapidly. I started cutting at 130 mm/min and now I am at 70 mm/min and getting worse, always at 100% power. It has been woorking for around 40-60 hours. Have to clean the lenses after each sesion (30-60 minutes cutting) just to get a few more power, but I guess it will not be enough soon to be able to cut at 70 mm/min. I can not slow it more before making it useless, as it can take then ages. I am using it for making money, not for fun, so slow it even more is not an option.
So I am planning to buy another machine. The "cheapest" solution could be to buy a new laser module.
-I use it mainly for cutting MDF 3mm
-I need no-computer use.
What will you recommend me? A new laser module? A complete new machine?
I have no problem with my current machine, as I can think about it like a "test system".
I can spend money on a new one, but no thousands (yet!)
Any help will be greatly appreciated.