I am having a issue when using bi-directional scanning is enabled and Its still present even when I change the scan angle to 90 deg.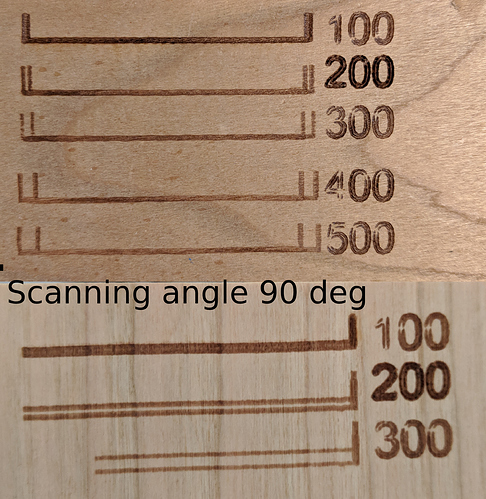 The number next to each line is the speed in mm/s and I used a Line shift Interval of 0.100mm for each test. The numbers are vector engraved. Each time I stepped up the speed by 100 mm/s the spacing of the ghost doubling on each engraving was increased by 0.5mm.
I've already tried to do a scanning offset adjustment, but it only moved the raster over 0.5mm. Did I not enter the offset adjustment numbers correctly?
The laser engraves perfectly when Bi-directional scanning is off, but I would like to take advantage of the time savings.
Hardware:
RDC6445g Controller in a 5th Gen full Spectrum Laser
Stepper motor drivers: DM542
Stepper motors: NN-moter 42hk3403-2512DA