Buongiorno, possiedo una neje master 2S Max con laser neje A40640. Da qualche giorno, superati 30 minuti di lavorazione la macchina si blocca in modo del tutto inaspettato. Ho provato a cambiare PC, le connessioni seriale sono ok, la macchina è attaccata ad una unità di backup elettronica supplementare per evitare sbalzi di corrente, ma continua a bloccarsi e non capisco perché. Aiutatemi per favore!
Hello, I have a neje master 2S Max with neje A40640 laser. For a few days, after 30 minutes of processing, the machine stops unexpectedly. I tried to switch PCs, the serial connections are ok, the machine is attached to an additional electronic backup unit to avoid power surges, but it keeps crashing and I don't understand why. Please help me!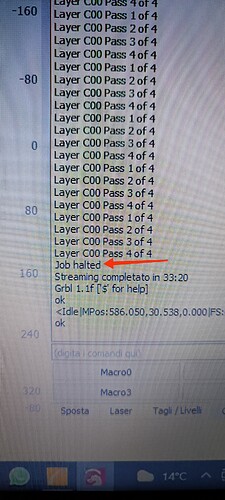 Questi sono gli errori che compaiono in consolle. Grazie in anticipo per l'aiuto.
These are the errors that appear on the console. Thanks in advance for the help.