Hi I m new to light burn and do like the software a lot .
Unfortunately I'm facing a problem with deviations on multiple cycles for the same element to engrave / cut. (On 3d printers it would be called layer shifts…)
I have checked the belts, motors hardware etc. When cutting a simple circle or square things are fine.
When cutting some Christmas decorations I have a shift only on the x axis.
As the structure is rather complex I m afraid it might be some rounding issues on the hardware ? All things on mechanics I think I have checked
To illustrate I have uploaded a picture (I used the same piece of wood for two tries with slight resize and speed change as the deviation somehow scales it looks like some systematic problem
but I don't have a clue what's on)
As the two different tries may confuse I uploaded the picture with some markings: red and green are the different tries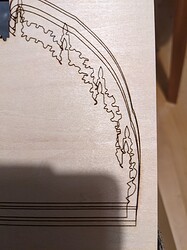 ilust