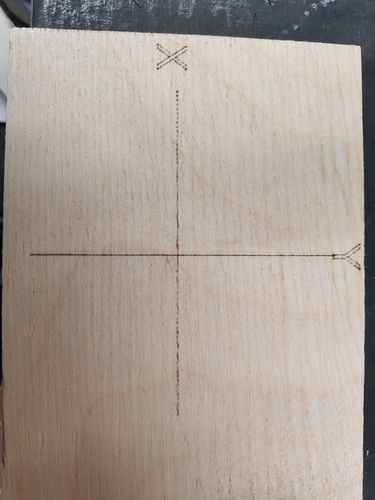 Hello everybody,
I am Andre and new here in the forum.
I own an X-carve for 3 years now and upgraded it with a 15w diode laser from China.
So I'm just trying to get into the world of the laser.
I have been testing the Lightburn software for a few days and am very happy with it.
My X-Carve still has the old power supply and the Arduino Uno with G-Shield v5b.
After connecting the laser to my G-Shield, I also started testing right away. I first tested Laserweb. But then I came across Lightburn and stayed.
It can be better served for me and it is also in my native language switch. (German)
Of course, as a beginner, I also have problems with lasers.
I do not know if this is the right thread for this.
If not, please be moved.
I allow myself to start with my problems.
As soon as I connect the laser in Lightburn, the laser briefly turns on and sets me a focal point. I think that is definitely a matter of adjustment in the software. Maybe someone knows advice.
Or maybe it's the G-Shield. I also thought that I could adjust somewhere that he find a small point to the center.

I have already tested several things.
Among other things, an engraving of my daughter with about 150 * 200 mm.
I took Dittering with 200 dpi 1200 mm thrust and 40% power.
He needed about 9 hours for it. I think that's faster too. Or?

Now I've done another test with a cross.
And then I noticed that he burns the Y axis very well but the X axis only Punkted. The mistake is definitely mine.
But what mistake do I make?:Grinsen:
So that's enough with my problems.
I hope you can help me.
Thank you in advance for your help.
Greetings Andre