We just upgraded our laser cutter from a Leetro controller to a Ruida RDC6445GT5 (so we could use LightBurn), and we're having issues getting it working properly.
The biggest issue is that in Fill engrave mode, it is very dimensionally inaccurate, and strangely the dimensions vary proportionally to the engraving speed setting. Even though cutting the same shape works fine. (Tested with several simple test files, both made on LightBurn and imported from elsewhere.)
For example, this first image was supposed to be a 1" square cut, with a 0.9" square fill centered inside of it. The cut went fine and was accurate, but then the engrave (at speed 100 / power 50) produced a square closer to 1.5". If I upped the speed to 400, it would produce a square closer to 6". (It also only seemed to fire the laser at the start/end of each line, but we had unrelated laser power issues at the time so I'm not sure if it's related.)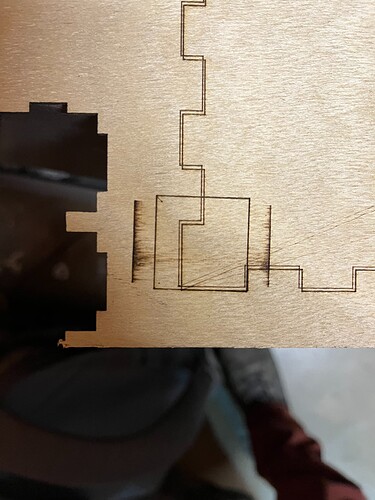 Or, this second image was supposed to be a pentagon cut with a filled circle inscribed inside of it. As you can see, I started at speed 400, and the circle was enormous - at least 4x the proper size (I stopped it early because it would've taken forever). I tried the same design with lower engraving speeds 200 and 100, and it made proportionally smaller circles (see third image).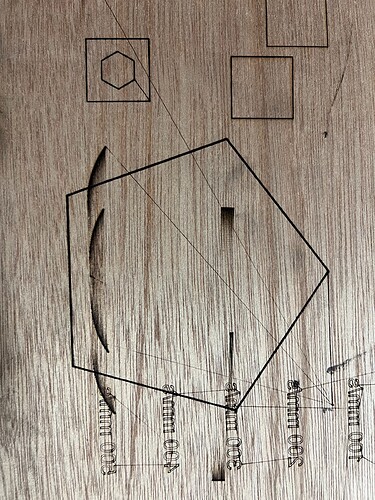 What could cause engraves to be so off in size, when cuts work fine? And why would it vary with speed? Any points appreciated, thank you!