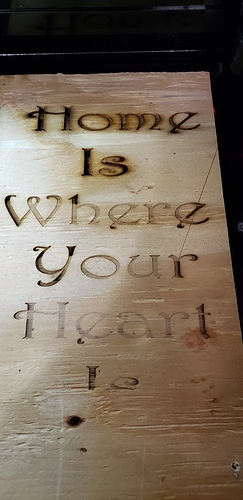 Im very very new at this… like a week or so old at engraving. lol
Had some issues with set up and Oz was kind enough to help me through that process! THANK YOU OZ!!
So… i did a test engrave (photo attached)
The laser started out not engraving, to engraving lightly, on up to… engraving in a really deep cut.

Ive posted my settings so I hope this helps.
Once again, im new to this so its probobly something really stupid on my part.
Everything I was engraving prio to this last week seemed to come out just fine so i dont know what changed.
thank for any help in advance.
Also I am now getting a hard limit prot error when i run the frame.