We just got our Thunder laser Nova 35 80 watt machine Tuesday, so I am a lightburn newbie. Our first machine was a FSL Muse, so mybonlybinterface experience has been Retina Engrave.
We do a lot of hat patches on JDS laserable leatherette and I'm having trouble fine tuning the settings. When we engrave with the Muse, we only have 2 options, threshold or halftone dither. I have been running with dither and details are not as blurry as with a threshold setting. Notice in the picture, the vertical stitch detail is much lighter than horizontal, nd the vertical line is not etchingvthrough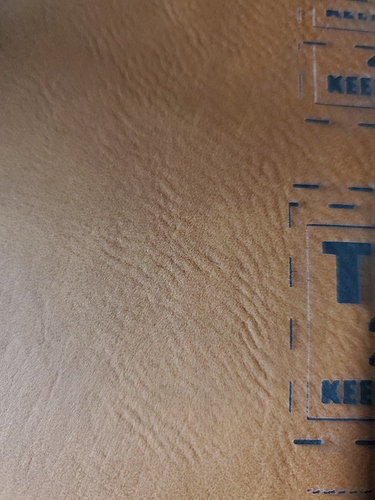 I'm having trouble nailing down the setrings in lightburn to get clean patches. Vertical lines are the primary issue right now. The only way to get them to etch is to over power the material.