Today I received the tube for my DIY build. And I must say: it cuts like an absolute dream!
Just for fun I tried some engraving, but I seem to have an issue with the alignment of the engraving.
If the engraving is not a bidirectional fill it is shifted to one side. If it is bidirectional it is shifted both ways.
I check the FAQ and based on that I tried changing the PWM rising edge setting and the lowering the acceleration. They both didn't have any effect.
It looks like the laser is firing too late in case of engraving. What am I missing?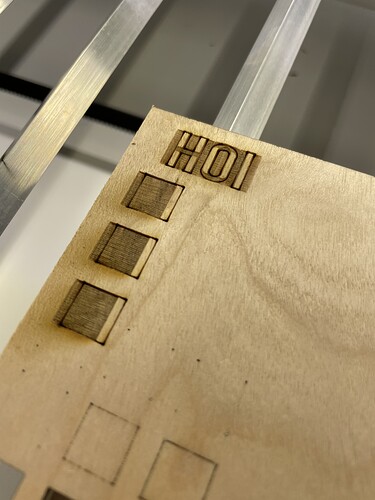 (The "HOI" had bidirectional engraving, the cubes are the experiments with acceleration and rising edge (non bidirectional). All results are the same.)
Thanks!
Controller Ruida 6445S.
90W Tube.
Speed: 500mm/s
Power: 50%