Hey Guys,
first of all, i'm using an Ortur Laser Master 2 15W machine.
When i try to engrave any photo to wood, it doesnt really works well.
I tried many different settings and wasted alot of wood and still got no acceptable result.
Please help me out, tell me what i am doing wrong.
Side note: If i engrave Text it works like a sharm. My laser is in focus, i think its only a wrong setting.
Lets begin:
I tried to engrave this picture on different wood-types:

The result looks like this (different settings used like: Different Modes (Jarvis, Dither, Stucki) and different Shape properties used e.g. Gamma 0,65, different contrast and brightness even tried using different speed modes (3000, 2800, 2500) and different DPI (254, 300, 400) on Image Settings window.
Results: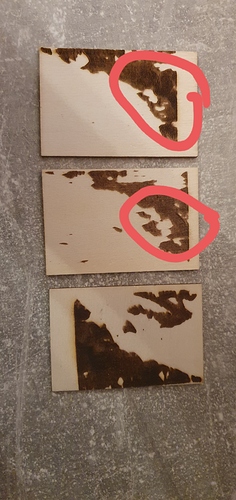 The red circles are the face.
I even tried using everything on deafult, i reset everything to default, but still an unacceptable results.
I imported the photo into Lightburn which automatically took off all the color (greyscaled it), i even tried to greyscale it on my own, with no success.
Please give me some help, any advice because i'm really desperate.
Here are my Controller Logs settings
$0=20 $1=50 $2=0 $3=0 $4=0 $5=0 $6=0 $10=1 $11=0.050 $12=0.002 $13=0 $20=1 $21=1 $22=1 $23=7 $24=600.000 $25=3000.000 $26=100 $27=2.000 $30=1000 $31=0 $32=1 $33=250.000 $100=80.000 $101=80.000 $102=80.000 $110=9000.000 $111=9000.000 $112=9000.000 $120=2200.000 $121=1800.000 $122=2500.000 $130=400.000 $131=430.000 $132=1.000