Hi all, new user of LB running demo here. I have given my troubleshooting the college try by myself, but am needing guidance at this point. My machine is an 2x2 MPCNC controlled by Raspberry Pi + Protoneer RPi CNC board. I am aware that Lightburn can't be run on Pi, but that I can use a sender on the pi to execute the code instead of direct control through LB. My current testing is just to demonstrate that I get accurate XY motion control from the code generated by LB, I am just testing movement and am not actually using the laser in any of my tests yet. I have been trying to achieve this, but when I open my saved gcode in the sender (bCNC) I encounter these behaviors:
File takes extremely long to open (5+ minutes). For reference, my test image is a 3.5 MB greyscale bitmap, and the produced gcode is ~ 25 MB. I am unsure if this is normal or not–seems suspiciously large to me–but including for thoroughness.

bCNC fails to interpret the file correctly; instead of seeing the correct toolpath, I get weird skinny rectangles

stalling or knocking stepper motors at regular interval (every 15 sec or so)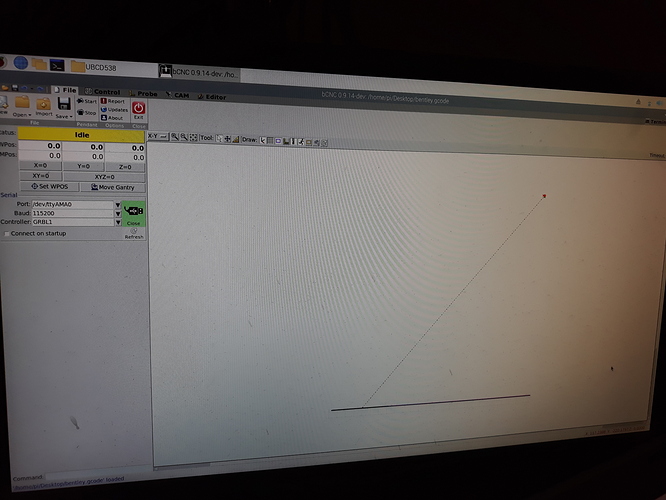 Below are the 1st 60 or so lines of gcode. Note, the 500 mm/sec is in error; in GRBL I am set to 500 mm/min (so ~ 8 mm/sec)… but I don't imagine that would cause the strange preview I am seeing in the image above?
I appreciate any and all advice…my brain is fried at the moment from testing and troubleshooting. I am tempted to purchase an Arduino Mega + Ramps 1.4 kit for like $40 to be able to run LB on the Arduino instead of using the sender, but I want to make sure I am not overlooking some simple novice mistake here in the software. Thanks
; LightBurn 0.9.16
; GRBL device profile, current position
; Bounds: X0.05 Y-0 to X257.15 Y251.1
G00 G17 G40 G21 G54
G91
M4
; Image @ 500 mm/sec, 100% power
M9
G0X65.95Y-0
; Layer C00
G1X0.1F30000S1000
G1X0.1S0
G1X0.1S1000
G1X0.1S0
G1X0.1S1000
G1X0.1S0
G1X0.1S1000
G1X15.3S0
G1X0.1S1000
G1X6.7S0
G1X0.1S1000
G1X0.1S0
G1X0.1S1000
G1X0.7S0
G1X0.1S1000
G1X0.1S0
G1X0.1S1000
G1X0.1S0
G1X0.1S1000
G1X0.1S0
G1X0.1S1000
G1X1.9S0
G1X0.1S1000
G1X0.1S0
G1X0.1S1000
G1X0.1S0
G1X0.1S1000
G1X3.9S0
G1X0.1S1000
G1X0.1S0
G1X0.1S1000
G1X0.1S0
G1X0.1S1000
G1X0.1S0
G1X0.1S1000
G1X1.7S0
G1X0.1S1000
G1X0.3S0
G1X0.1S1000
G1X0.1S0
G1X0.1S1000
G1X0.1S0
G1X0.1S1000
G1X0.1S0
G1X0.1S1000
G1X0.1S0
G1X0.1S1000
G1X0.1S0
G1X0.1S1000
G1X0.1S0
G1X0.1S1000
G1X0.1S0
G1X0.1S1000
G1X0.1S0
G1X0.1S1000
G1X0.1S0