I have a K40 Co2 40Watt laser.
I have Lightburn 0.9.09. I originally got it for a diode laser I had but upgraded to a K40.
I'd previously used Lightburn to trace an image and then used K40 whisperer to run the laser to engrave the image onto a keychain. There is text that is part of the image and it was traced with Lightburn at the same time as the image. I ran the raster engrave in K40 whisperer at between 250 and 300mm/s and between 8 and 9.5 mA.
With K40 whisperer the text portion of the image was crisp and easy to read, including small text. This is what it looked like. It's about 50mm wide and about 32mm tall.

I installed a mini-gerbil so that I could use Lightburn directly with the machine and loaded up the same image. I've tried a number of speeds (50-400mm/s), power settings, changing $30 to 255 or 1000 and turning laser mode ( $32 ) on and off. Either the text in the middle that says "CHURCH OF THE" becomes nearly illegible, or the image on the left becomes overburned and the definition is lost. The closest I was able to come to matching the older version was when the $32 setting was 0 but that means PWM is off.
I have the cut setting on Fill which I believe is the closest match to what I'd used in K40 whisperer. It was not tracing the lines of the image in K40 whisperer.
This is what the results from the tests in LightBurn with mini-gerbil look like.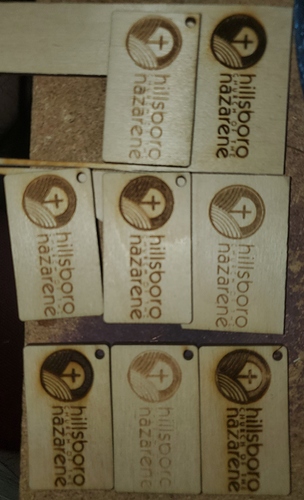 This is the test with laser mode turned off.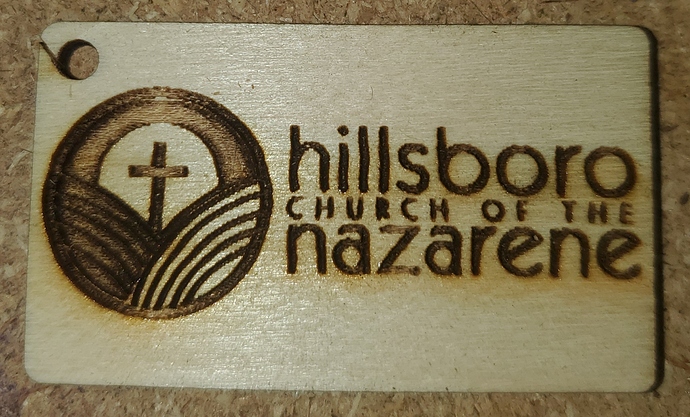 If I set it to do Fill + Line I lose some of the definition in the image and the text looks outlined. If I get the text to look solid the image has issues with being overburned.
Can someone point me in the right direction? It seems like it's something to do with the way PWM is handled but I don't know what setting to adjust at this point.
Thank you in advance!