Hi there. I decided to transition to Lightburn but to do that I have to change my controller first.
I just got a Ruida kit with controller and I'm trying to replace the old Leetro controller which got toasted. The problem I have for now is that I can't understand what some of the wiring means when I switch from the Leetro to Ruida because they have different names and don't know what is what. I know is doable because I saw some members here upgraded this model of laser I have from BRM Lasers but didn't gave details.
Can anyone please give a hand? Below are side by side both controllers with the Leetro still not disconnected from wires, as it was originally on my BRM laser.
Specially the Red and Pink connections you see in the image attached I need help with. The rest seem clear as they are 1 to 1 named so should be ok in theory.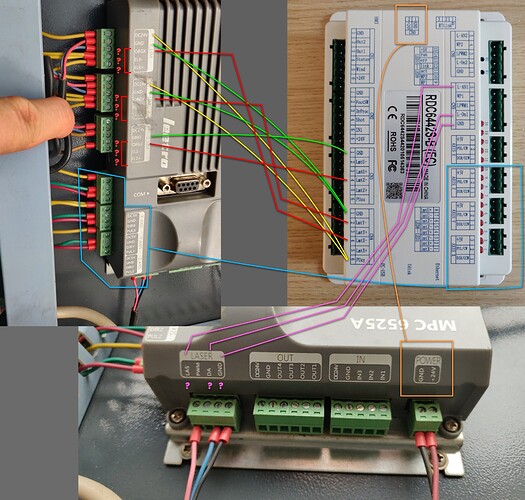 The red connections with ??? I'm not sure where to put them. On the Leetro they are like this marked:
X_LIM:
ORGX
ELX-
ELX+
Y_LIM:
ORGY
ELY-
ELY+
Z_LIM:
ORGZ
ELZ- (no wire on Leetro)
ELZ+
Also notice that on the Leetro I have 2 wires on the same pin in some cases.
Should they Go as I suggested in the image? the red lines from ORGX, ORGY, ORGZ to:
LmtX-
LmtY-
LmtZ-
??? or I have to test and see which direction the head goes and if not correct I move them to Lmt+ ?
And What are then the ELZ for each of the axes with + and - for?
They should be the limiters that stop the head of the laser I suppose for bumping into the edges but what is the equivalent on the Ruida?
As for the laser wires connection, the Pink lines, did i connect them well? because again is not clear what is the equivalent on the Ruida.
Thank you in advance for the help, because I'm a bit desperate and don't want to fry anything