I have recently purchase a G-Weike 1390N (1300 x 900) chinese laser. Everything is fairly standard for a larger machine, belt drive stepper motor system, Ruida 6442, 100W Reci tube etc.
The issue I'm trying to solve is with the alignment/quality of the scan/fill lines. I noticed my engravings didn't have good hard edges, so I have been running some tests to look at each scan line.
At first I thought it was simply a matter of adjusting the Scanning reverse compensation, but that didn't work like expected. As soon as I added any compensation the alignment of the lines was over corrected and edge alignment became worse.
I've attached a couple of images showing the issue.
Img 1 - This is a square engraved at 400mm/s with X scanning in both directions and 0.4 scan gap and there is no reverse compensation. The lines are actually lined up and start at the same point horizontally, but if you look closely at the faint engravings at the start of each line. When the line starts the laser power hasn't reach the full power straight away and there is a small section of faint engraving before the darker engraving starts. So from a distance the lines look like they aren't even.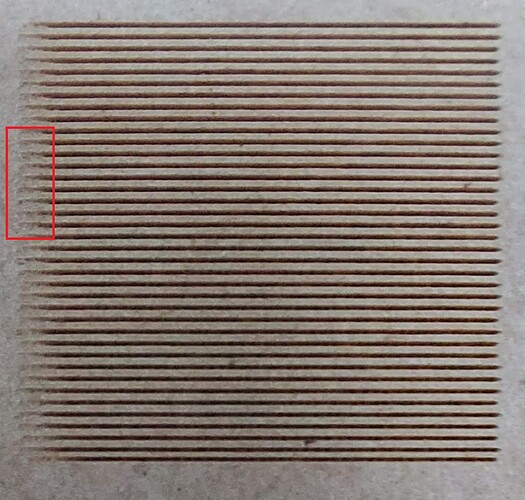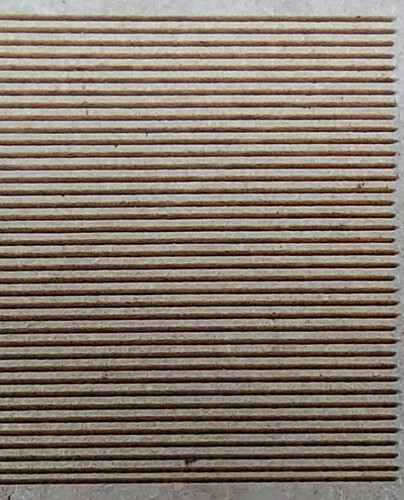 Img 2 & 3 – This a square engraved at 400mm/s with X scanning in only one direction (left to right) and 0.4 scan gap with no reverse compensation. You can see the start of the line is faint (left hand side) before the full depth engraving starts. Also the right hand side does not always finish at the exact same point.
Does anyone have any thoughts on what could create this issue and any ideas on how to fix it? Is it a hardware issue or software issue?
Thanks in advance.
Mat