Hi all, there is any correlation between DPI and pulley's tooth?
If you think about how many teeth it takes to get a crisp picture - no. The conversion factor for the pulses is so large that it cannot be seen under normal circumstances. Your laser spot which is approx. 0.1mm is many times larger than the small steps that are generated for each revolution. However, the number of teeth has an influence on the speed and accuracy of the transport of the laser head itself.
ok, but can i trust in laser manufacturer when he says that my laser spot is approx 0.08mm?
from manufacturer' s specs :
Specifications:
Material: Aluminium alloy
Color: Blue
Laser Power: 40W
Luminous Power: 5000~5500mw
Laser Wavelength: 445±5nm
Engraving Accuracy: 0.01mm
Package Size: Approx. 16010055mm / 6.33.942.17in
Package Weight: Approx. 500g / 17.64oz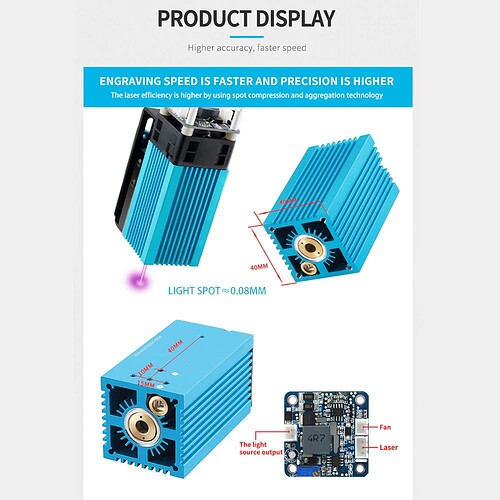 No.
I do not know where they get this number from, but not from real life.
Make a test, line, 20mm length make an array with 10 lines and with a line spacing of 0.5mm
The test should be repeated 5 to 10??? times, but with minus 0.1mm each time.
When you no longer see line spacing, you have found your minimum line spacing / spot size. Of course, you must first find your exact focus point, do a ramp test, e.g.
(this is the rough test, if you have patience you can perform the same test with 0.05 mm at a time
ok i think i understood, tomorrow i will try.
Just another thing, plywood is good for this test or burns too much?
Plywood is fine for the task, sand it a bit with 800 sandpaper, then the result will be clearer.