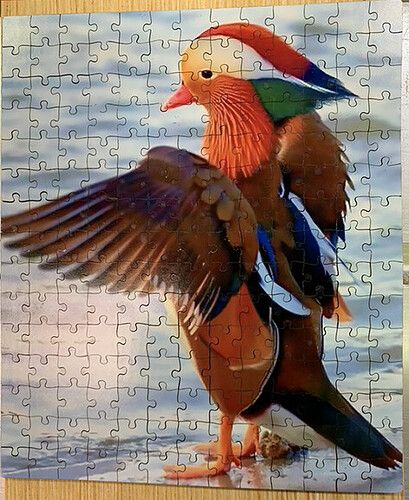 This puzzles has one caveat to be taken care of at this time, working on it.
Omtech 60W/50W Speed 20mm/sec, Max and minimum power set at 35% two passes.
The ply had a slight rise in the very middle. I am using an American Photonics D20mm, 63.8mm lens in their lens tube for this size that will fit the Omtech specifications. I have a set-up that catches the puzzle pieces which I will show photos of in a later post. In the ramp test there is an area of at least 3-4mm change in height of nozzle from substrate with a cut that is the same. My "corrupted" mind tells me if I set the height in the middle of that, normal procedure, I should get a complete through cut if there is a "bump" in the plywood of no more than 1.5mm. Does that make sense?
Ramp test shows the nozzle height to be 10.5mm. The Photonics nozzle is shaped as an oval at the end. I tried half that distance, none in between yet, it cuts with a very wide kerf on the backside of puzzle leaving more smoke residue than I want. This puzzle was cut with nozzle at 10mm, absolutely no residue on the face of the puzzle which I face down in the laser, and very little on the top bare wood with no sealer finish applied. I sprayed the photo with preservation spray from Germany. The cut in the exact middle of the vertical across the width did not cut completely through, just little spots making it impossible to separate the pieces. Speed 20mm/sec, Max power 35%, Min power 35% two passes. Tried one pass with several speed and power settings, none of them cut all the way through unless I increased power and then the kerf on the top was way too big and dirty. Air assist at 20psi.
I can get almost every slab I have cut from my 5mm ply flat with my water application onto the back side. I allow the water spray to dissipate for 10 or 15 minutes before cutting. You can watch it flatten. I have a feeling that when I cut a large puzzle, unless I really soak it, the moisture will leave the ply before it is completely cut allowing it to deform although very small amount. I have tried gluing a piece of paper/photo paper onto the back side…Problem with that? If it doesn't stay flat you can't do much about it with both sides covered with photo paper or similar.There may not be all that many folks on the forum cutting or wanting to cut jig saw puzzles with a laser.
Any help or ideas greatly appreciated.
BTW: The pieces in this puzzle measure 1/2" x 1/2" or 13mm.