I've bought a cheap Chinese 7watt laser from Amazon to cut printing plates for my pad printer. But I'm new to this so, I'm learning as I do it.
After putting it together and getting it running with lightburn, I noticed that it was cutting the marks between letters and across them as it moved.
I read that I needed to turn on "laser mode" $32=1, and did that in the console. That did stop the laser from cutting between the letters but the power coming out of the diode laser is so weak now that it's hardly making any noticeable burns, even with the power maxed out at 100%.
When I turn laser mode off, $32=0, it burns like a magnifying glass on a hot day, but cuts the travel marks. And turning it back on makes it go weak again.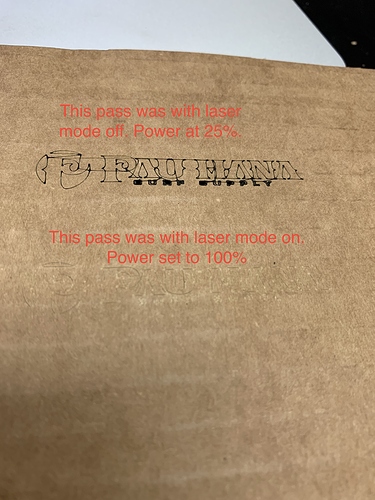 How do I get it to burn at full power again with the laser mode one?