I have a 130 watt Bodor 1309 with a Ruida RDC6442s (EC) controller.
All of a sudden, my machine will not fire. As soon as I try to 'start" a burn, the machine goes into protection mode. The display will read "machine protected or work paused". If I try to pulse the machine I get " Machine Protected Please ESC."
The door switch seems to be operating properly, the light on on the sensor is off when the door is open and the light turns on when the door is closed. My next thought was the water flow sensor but it appears the I have no water sensor as it is built into the CW5000 chiller.
When I go to to Diagnostics on the control panel, I see this…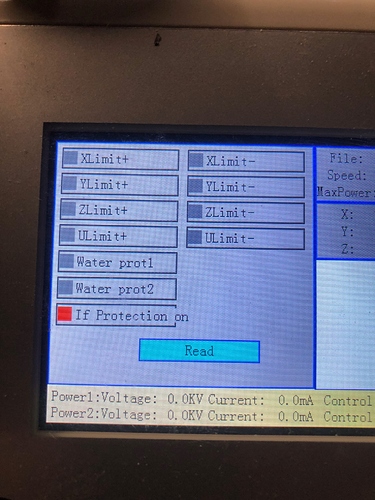 Notice it says READ beside the "IF PROTECTION" but I can not access the menu to read anything.
Please, if you have any input, I would appreciate it.
Thanks for reading.