I'm stumped on this…
I cut some 6mm birch laserply @ 8/80/1P which seems just about right. Leaves little char and gets through in one pass most of the time. Occasionally, the cut doesn't make it all the way through. I initially assumed it was material based and should increase the power.
The below is a closeup from today, short story, I cut the board, it made it through for the most part - there were areas that didn't cut so I thought I'd try and line up the cut, flipping the board over and flipping the vector in lightburn to cut from the backside. (all photos below are the second attempt to cut, once I flipped the board over. The cut lines you can see were made from burning the opposite side @ 8/80/1P and so are the exit holes if you will. The wavy, faint burn line was made cutting @ 30/50/1P.)
I set the laser to 30/50/1P and gave it a shot. The aligning is off, badly! (shocker there…) However, the curious part is that it seems the laser completely loses power, unable to cut through even masking tape? It appears to completely stop burning at a few points which I zoomed into.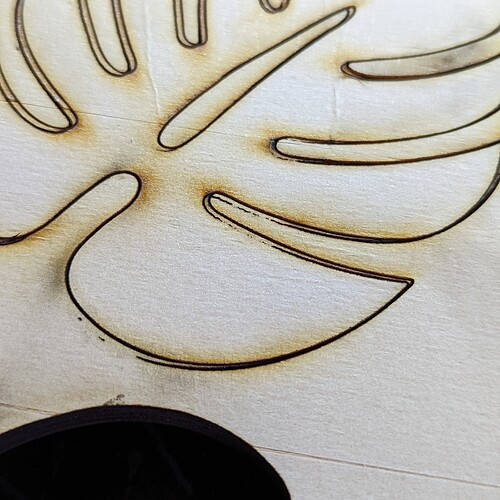 I hope that's enough of an explanation to get the ball rolling.
Any thoughts would be great as I'm going off on all sorts of tangents!..
-Si