I'm attempting to cut out several complex shapes that have notches and bolt holes within them, but LB isn't cutting out the bolt holes first. I think this is because it is having trouble determining which shapes are "inside." The file I am using is here:
https://drive.google.com/file/d/1h7j2r7oHk_FD2Rw3i6BbYk6Wq91-p7Oa/view?usp=sharing
Here are the settings that used to work with files like this one on the previous version of LB: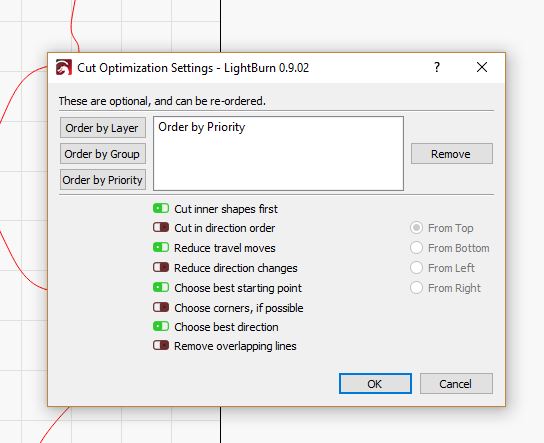 In the following photo you can see that LB is cutting the bolt hole after cutting the larger piece it is inside of:
https://drive.google.com/open?id=1zONEHbArYGOwwJGjsBX3p0sCmKF2Ow-V
I added a .5mm kerf to the cut to try to visualize what was going wrong and this was the result:
https://drive.google.com/open?id=11BOnQ26ZeF9uvgBLcXNhwYaN6XEOWXEb
The kerf should have made the bolt holes smaller because they are inside, but some of them are actually larger. This shows that LB is confused about which cuts are considered inside.
I've tried multiple permutations of grouping and ungrouping the shapes as well as changing the cut optimization settings, but nothing has worked.
I'm using a k40 with a cohesion 3d board running Smoothie, but I don't think that is relevant because I can see the problem in the LB cut preview before I even connect to my laser.