Just made a few key fobs, everything designed inside Lightburn (tortoise pasted and converted to vector in LB).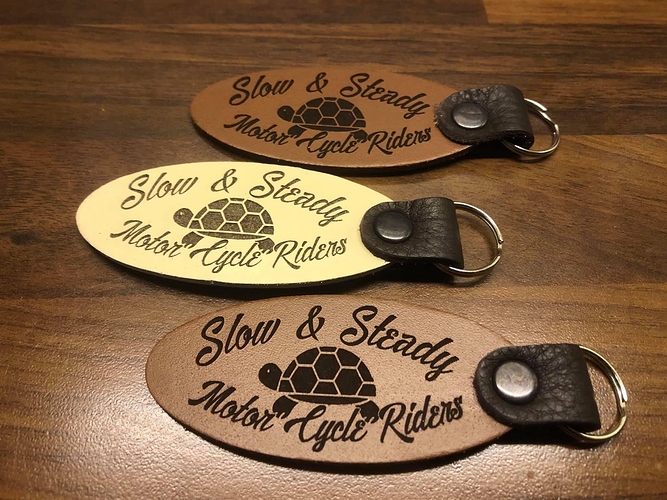 Hi Julian, fine work, I like your keychains.
Want to tell us a little about your machine settings and whether you covered leather before you started or how you cleaned it of soot? Have you cut out the items yourself or bought them prefabricated?
The only thing I do not think fits completely is the rounding of the turtle's armor, I want to keep them flatter. I have attached a picture to show what I mean, hope it's ok with you.
These were done on a 60w laser which I use almost exclusivley with leather. Settings were speed 225, power 70 and line 0.90. The tube is around five years old, so maybe using more power than a new tube made need. I do a lot of different leathers and find that I have to either reduce or increase the speed or power for each type. I cut the shape out with a cutting die (I have hundreds of different dies) and an 8 tonne clicker press. I never cut the leather with the laser as you can't beat a die cut edge.
The image of the tortoise was just something I found on the interweb, which I vectored I made the gaps between the parts slightly larger using the offset tool make it stand out a bit more.
I don't put anything on the leather when I engrave. This particular leather, needed a wipe down after engraving with a damp sponge, a dry with a soft cloth and then a wipe over with some isopropyl alcohol. Again it depends on the leather I use to how it's cleaned, most is as above, but some no water just isopropyl alcohol and others just water.
Thank you for your very informative answer. I have also tried to cut leather with my 40 watt machine but gave up pretty quickly, the result I achieved on 3-4 mm thick leather was not usable for me and I do not own cutting dies.
Sometimes I spray very little water on the material (also on wood!) I want to engrave with surprisingly good result.
For cleaning I also use isopropyl alcohol or acetone with good results.
Have a good time and stayed healthy
I bought my laser for leather work, I got rid of my clicker and die bender when I saw what my 80 watt could do. I didn't have a lot of dies made ( they are a pain in the neck to make with a hand die bender ) so a was no big deal for me. I first had a 40 watt and was not happy at all with it for leather work.
Hi there,
great work!
could you tell me if I can do this with my Explore Air? And if it is possible then how to do so?
thanks
I don't know, can your Explorer Air cut leather which is around 2.8mm thick?