I am at a loss and I need some help. Let me be as brief and to the point as possible.
I have a fully modified K40. Really should not call it a K40 anymore because there is really nothing left of it. I have a TopWisdom DSP. My laser is calibrated, mirrors are aligned, I can cut perfect 100x100mm cubes anyplace on my 300x240 cutting bed. Just to be sure, I opened LightBurn and created a 100x100 cube, manually set my origin to 3 different locations on the bed and burned a perfect square.
I installed a LightBurn camera. Completed the calibration and alignment 3 times. The image I get from the camera is sharp and clear. I have good light. The calibrations score I received at each point was from .21 to a max of .29 at all eight points. My alignment circles and target are all pretty much perfect and I clicked on the centers, in the proper order, a single double click for each circle and moved on to the next one. Yes, I have a honeycomb bed and yes I FULLY covered the bed and no honeycomb was visible during the calibration steps.
I took some scrap material and drew 3 circles on it. Went into LightBurn and put a star in the center of the circle and it came out offset to bottom left as you can see in the image below. So I printed a 100x100 test square. The square came out perfect. I re-calibrated the camera, and re-aligned. I then put the same scrap in the laser. Took a picture. Drew a circle and square as shown in the image below.
This is the result. The circle and the square is again offset to the left, although it may appear that this time it is not as low as the star was.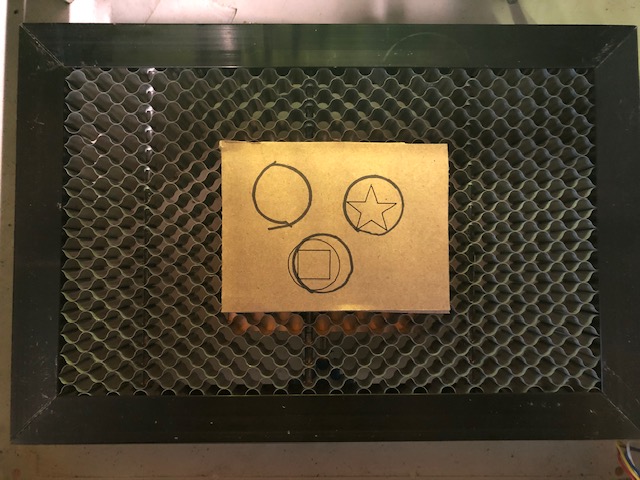 I did this three times. All three times the result was the same. Any ideas?