Mac OS 10.15.7 - Lightburn 0.9.23 - Shapeoko standard SO3 I am sorry to ask this question. I am frustrated because not having used Lightburn in a while, I now cannot get it to jog correctly. After running my Shapeoko CNC, I run the following Macro but to no avail. Any help would be very much appreciated, thank you.
Macro run after using CNC:
$32=1
$10=0
$20=0
G10 L2 P1 X-459 Y-415
Screenshot of job:

Settings: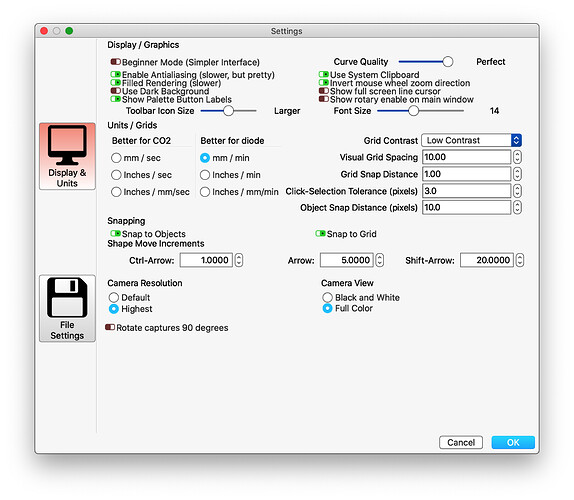 Device Settings: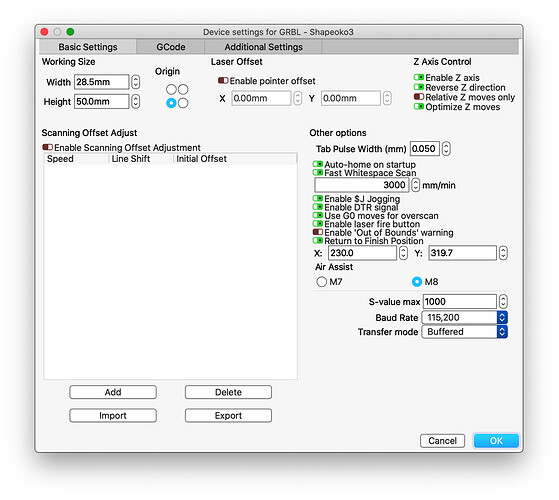 Current behaviour:
Home button and home symbol bring the laser to home at top right.
Z axis operates for correct amount in correct direction.
Jog press
brings laser in -Y direction and does not stop
Jog press
bring laser in -X direction and does not stop
Jog press
brings laser in diagonal direction towards -X and -Y thus
and does not stop
Jog press
brings laser in diagonal direction towards -X and -Y thus
and does not stop