Hello.
I am new in the forum and laser "World", but not at the CNC as I have been playing as a hobby with CNC machines for a decade or so.
I got my self a Chinese 500x700 60W laser with the intend to modify it to my needs. On of the things I did was to change the whole table lifting system to a more steady and solid one and add a stepper to take advantage of the Z axis functionality. I also installed an auto focus touch probe to it.
Trying to setup the functionality in LightBurn though was the hard part
, because either I was not able to auto focus (Home) the axis or I was not able to make Z not to home at start up.
After struggling for a while with no success, I decided to give a try to RDWorks to see the settings on that side. I was kind of disappointed to find out that I was able to make the Z axis to work properly from within RDWorks and not LightBurn.
Here is why. In RDWorks I see these settings:


Where you have the option to Enable Z (Vendor tools window) and then at the user settings tell the controller not to home Z at startup (Right side panel).
In LightBurn on the other hand, I have this settings read from the machine which does not make any sense, and I could not find the appropriate settings to enable Z but not home at startup.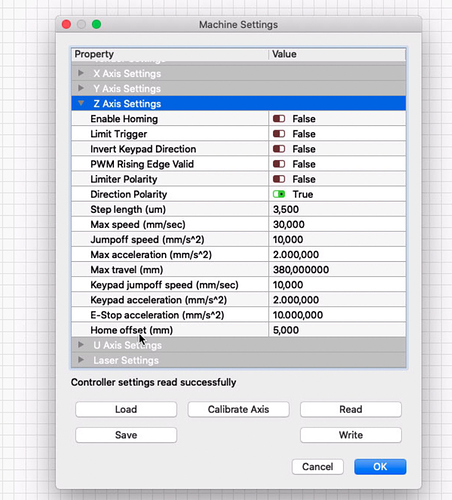 The machine is working properly now of course, but I never change the settings from LightBurn because when I write from LightBurn it changes the Z axis settings and I have to reset them from RDWorks.
Am I missing something, or is this a bug (maybe at the OSX version)?