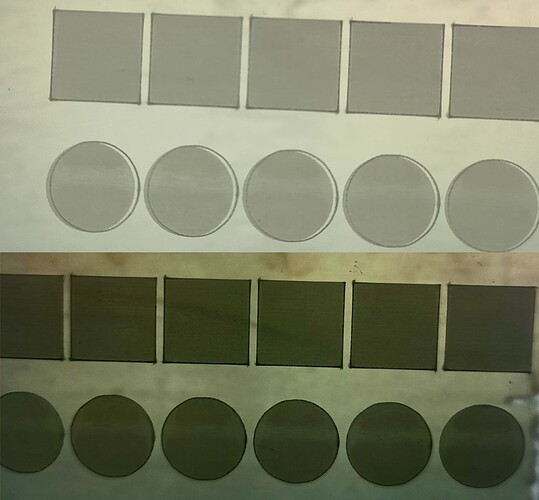 Hi Folks, I have a bit of an issue that I'm hoping someone can help with. I've just got a Ruida based laser to replace my very old Leetro system. It's all up and working fine but i'm having a few issues with some work on it.
I engrave tokens and on my new system when engraving smaller ones (15mm etc) in rows the outline cuts are misaligning with the engraving, but in a variable way. so the engrave will finish, then the cuts will start aligned correctly, but slowly drift out of alignment on the x axis by a mm or so over the course of the row, being worse the more items it cuts.
Strangely this only happens on circular tokens, and isn't noticeable on larger ones. Small square engravings match perfectly. I've attached a pic to demonstrate what I mean, these rows were engraved then outlined with a cut at identical speeds (top image is the end of the row, bottom is the start). This effect becomes even more pronounced the smaller the shape being cut, but again, only with circular shapes, I guess it's something to do with the way the head is changing direction but I'm not sure where I should start trying to adjust settings to sort this. I've already lowered the cut and idle acceleration considerably, and tried cutting at both fast (190mm/s) and slow (18mm/s) speeds without any luck.