Hi everyone,
after reoping my last project, I am missing many objects. Before saving the project and turning of my computer everything was fine. But after reopening my file, it seems to be defect.
First I thought maybe I have deleted all the missing objects by mistake, but after marking the area where the objects have been before, there are still "invisible" objects. It is still possible to change them from layer C00 to another layer (just for checking), but the objects remain invisible.
I've found no way to get them back.
After turning "debug drawing" mode on, the missing objects are visible again, but only in this mode and without any chance for putting them to laser output.
In the following picture these objects are "invisible" (see the free space in the area between: x=100 to 500, y=320 to 420) and compare this with the next picture…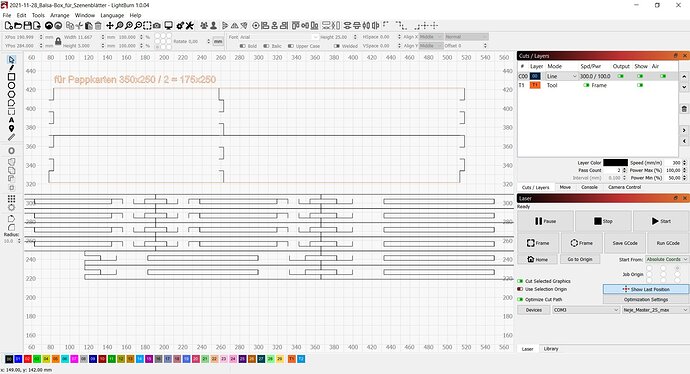 In this picture (made with "debug drawing" mode) the objects are visible again (see pink objects in the area between: x=100 to 500, y=320 to 420):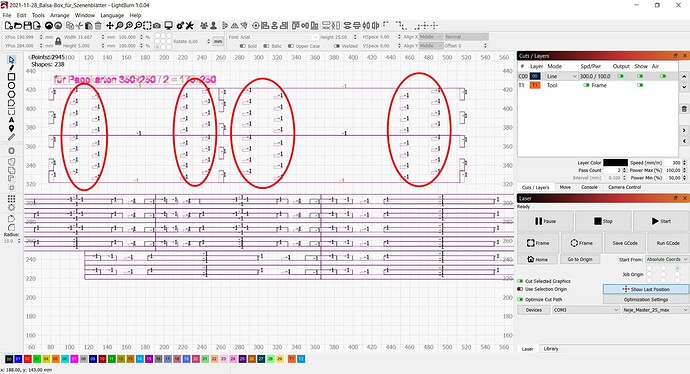 What can I do to restore my project data?
2021-11-28_Balsa-Box_für_Szenenblätter.lbrn2 (272.4 KB)
I am using LightBurn 1.0.04 with Windows 10 Pro 64bit on an Intel i7-3635QM CPU @ 2.40GHz with internal graphics.
I have searched this forum and internet for similar errors with LightBurn, but I couldn't find something similar.
Many thanks for your help,
Nig