It's been a while since I used my diode laser (Ortur Laser Master) and I was doing some tests on some painted aluminium using lightburn and I couldn't get it to engrave.
It was firing but not marking.
So…I went back to Laser GRBL and it engraved.
Back to Lightburn to play with the power and speed settings and I found it engraved fine on 1000mm/m @ 50% but didn't mark at all set on 1000mm/m @ 80%
At 50% there was a noticeable increase in power compared to 80% as it engraved.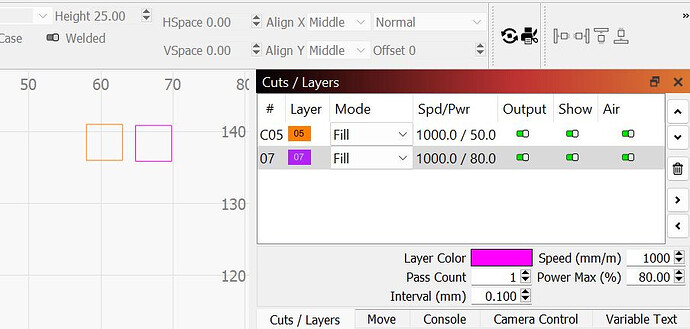 After some head scratching, I decided to try a test grid and it seems the power drops off at 30%, 60% and 80%.
I did this on an aluminium litho plate (left) and the painted aluminium (right).
Being pretty much a noob, I'm not sure if I'm doing something wrong or if I have a hardware or software issue?
Any ideas?