In the "Cuts" window, one of the settings is headed "#", which defaults to the sequence in the list (C00, C01 etc) - unless you change the priority. You can change this label in the cut settings to whatever you want. Then whenever you use that layer in subsequent projects it remains with that name.
You can also change the same property in the materials library, BUT it doesn't appear when you apply the library properties to a layer.
So… how does one make beneficial use of the layer labels?
Is there a benefit in naming them to some standard in the "Cuts" list?
Is there also a benefit in naming them in the library?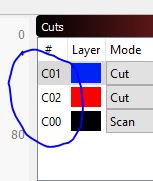 Cheers, Tonez.