After having great success with some simple cut-and-assemble "stained glass" projects using colored acrylic sheets, like this…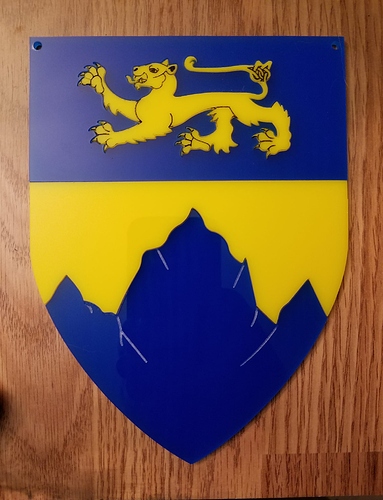 … I decided to get ambitious, and to explore the potential of the medium. So I jumped in with both feet to create a complex design, which is adapted from a Medieval stained-glass window depicting the creation of Adam, except that I substituted Charles Stewart for God and have him offering a bottle of scotch to Adam. I created a cut-pattern as a .jpg file, using outside software…
… imported it into LightBurn, and traced the pattern. You already know what I encountered – double lines instead of single, and weird connections that cannot be casually reassigned. It's an unusable mess.
What I really, really need from LightBurn for a project like this is (a) a center-trace function, and (b) a puzzle-template function that will take a finished vector design and 'blow it apart' automatically to separate each closed shape into ready-to-cut elements. Is there any hope of either of those, anytime soon?
Also, in the absence of those functions, can you suggest any work-arounds that will let me do what I am trying to do, anyway? This seems like such an intuitive thing for people to want to do with a cutting laser, and yet it seems so far out of reach. Even if my particular project is unusual, the same functionality would also enable someone to create a puzzle of the United States featuring fifty state-shaped pieces, or elaborate wooden inlays.
Thank you for your time. I would be grateful for any help or insight you can offer.