SOLVED see below.
Good afternoon,
I have recently bought the Sculpfun S9. I am setting it up now and using Lightburn. Unfortunately it doesn't connect. In Console it says waiting for connection, eventhough it says Laser Ready.
I am using Windows 64 bits version on a Dell laptop with Windows 10.
Can you help me out?
What else do you need from me to give a proper advice, I am a newby so I am sorry if the information I gave so far is too limited.
I attached a picture.
Thank you very much.
Suzanne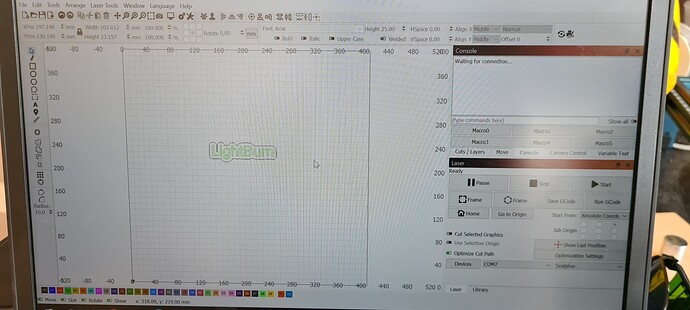 EDIT → SOLVED:
I send an email to the helpdesk. They suggested to check if there are more COM ports in the dropdown menu where it says COM7. And there where. COM9 gave a proper result in the console and the laser fired up and worked
Love using it!