I have created many different styles of tile using the Norton method. I have settled on Rust-Oleum Flat White as my paint of choice. I get the most consistent results with it. This is a low cost gift for a person I know who is interested in narrow gauge railway locomotives and the one depicted is from 1896.
I used an imported 150 x 150mm (6 x 6")tile that I can buy in a box of 44 for around £5.90 ($7.16) so that works out to around 13p (16 cents) per tile. I clean the tile with acetone and then apply a thin but even coat of Rust-Oleum Flat White paint and let it dry.
I design my burn in LightBurn which is great for sizing images. This burn was an image arranged at a line interval of 0.091 (279 dpi) with an overscan of 2.5% and Jarvis dithering. I could get a reasonable approximation to the different grey colours using Jarvis and it is one of my goto dithering patterns for image processing in LightBurn.
Power was set to 75% on my JTech 4.2Watt Blue diode (445nm) laser. The feed speed was 1000mm/min. Cells per inch was 50 and the halftone screen angle was 22.5 degrees. This image was burned in around 56 minutes.
Flat white painted tile demonstrates great contrast.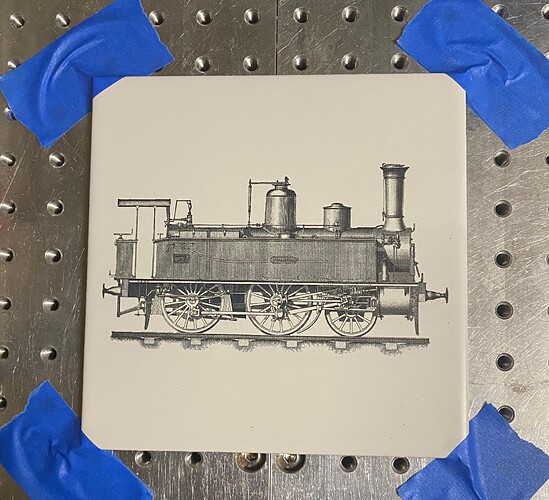 After white paint removed (under a very bright blue sky)