Do you have a Lead-in / Lead-out set for this Layer? I see you have an AEON, which Ruida controller model number is installed in this Mira 5?
I do not have lead in/out on. I'm not sure how to find which controller model I have… Sone one else suggested it could be backlash?
This is what I was looking into as well.

There should be a sticker on the control box inside the cabinet of your laser that looks similar to: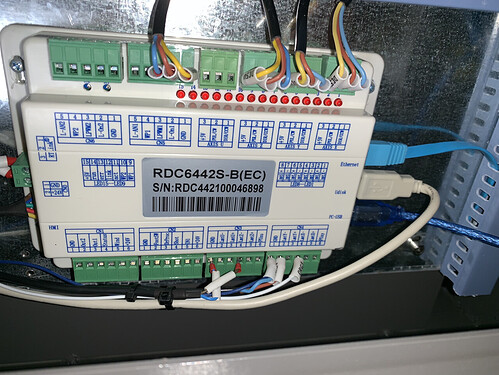 Searching 'backlash, Ruida' identifies you may have more than a software issue worth investigating further.

As the section title suggests, this is an optimization, but this is a software solution masking or hiding mechanical related issues.
Hide Backlash

This option is similar to the 'backlash repay optimize' setting found in RDWorks - It produces a cutting order that reduces or eliminates the misalignment between the start and end points of a cut caused by loose or flexing belts, or other forms of play in the mechanical parts of the laser. Enabling this option will force some of the other options to give it the most flexibility when planning the cutting path.
I might suggest reaching out to AEON for any troubleshooting procedures they have to help isolate the best resolution. Please keep us informed as you progress.
I'm definitely going to be contacting Aeon. Thank you!
I tried hiding backlash and it's still there fyi
This topic was automatically closed 30 days after the last reply. New replies are no longer allowed.