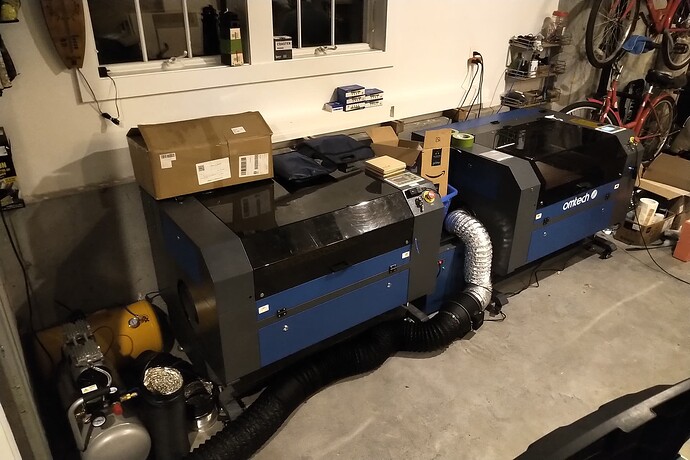 2nd 60w OMTech arrives, 6 months newer, and they changed some things.
Please ignore the exhaust setup in the photo, this is a work in progress and only a day old…
The wood portions of the shipping crate were much better than the first. It had a more solid structure inside for the outer ply to attach to. That being said, I had a broken caster out of the crate. Ball bearings were exploring the crate.
The newer has an AC air pump compared to the old with DC. The AC air pump is quieter than the built in AC exhaust, although I already ditched both for my compressor and external exhaust.
The newer appears to have a 3" focal lens compared to the 2.5" on my original machine. Verdict not out yet on how this performs from an air assist perspective as the nozzle is farther from the material.
The newer has the logo, and weaker air struts on the lid, or the lid is heavier?
For anyone curious, I am running both machines in series through the chilled water pump seen in the middle of the photo. It works perfectly.
I adjusted my compressor to kick on at 30psi and stop at 60psi instead of the factory 90-120psi to reduce wear. I added a $50 11 gallon aux air tank to the built in 8 gallon to reduce cycles. I may add another. Both machines share the pressure regulator and water/oil trap, and have an individual solenoid for air assist.
I want to replace both laser heads. Machine 1 has a slightly broken tube bracket and it is not seated the way it appears the factory intended. I need to be able to adjust the laser head mirror vertically to get it perfect, and I want both machines to perform as similar as possible for obvious reasons so I want 2.
Can anyone recommend a better laser head for these?